Why mediatech is the new fintech
The mediatech revolution is well underway. It's in our lounge rooms, bedrooms and on our way to and from work. We're tuning into Spotify, playing Fortnite and watching Netflix into the wee hours like there's no tomorrow.
The term "mediatech" has been used for over a decade to label startups with a media and technology focus in the age of the web.
Today's tech giants including Apple, Microsoft and Adobe all have their roots in media technology for the personal computer at the famous Xerox PARC - the revolutionary media research lab that reinvented the modern office in an age of the personal computer. Its legacy includes many of the things we take for granted in computers today such as the familiar windows, icons, mouse and pointer-driven graphical user interface, local networking and the faithful reproduction on printers of what you see on the screen.
So far however there has not yet been a mediatech "movement" in the way the 2015 fintech rush took off. Perhaps that is because many mediatech companies are still seen as music, games, photography, or advertising tech companies.
Many of the today's largest players in financial services are fintechs from another era. Bloomberg, Vanguard and Computershare all began as pioneers at the intersection of technology and differing areas of financial services: revolutionising and later dominating the market data, index fund and share registry sectors respectively.
The real roller coaster ride for fintech began in January 2015 when leading US technology venture capital firm Andreesen Horowitz set up shop in London and invested in the UK-based global online cross-border foreign exchange startup Transferwise.
Andreesen Horowitz had previously backed Facebook, Skype and Twitter and so this triggered a global rush of excitement about the potential for further investments in this vein. In each year since, venture capitalists have made over 1,000 investments each year in fintech startups representing over US$12 billion per annum according to KMPG's latest Pulse of Fintech Report.
Has mediatech's day in the sun arrived?
Like finance, media and technology have enjoyed a long and productive history together. As early bedfellows, one of Hewlett Packard's important foundation customers was the pioneering Walt Disney who was using HP's oscilloscopes to create pioneering feature-length animated films like Fantasia — the first film with surround sound.
Next generation classified giants like Zillow, Seek and even dating services like eHarmony and Tinder are all mediatech companies at heart as they aggregate, organise and present photos, maps and data online. And popular collaborative services marketplaces like Kaggle, Deliveroo and Airbnb are also new forms of mediatech. Their principal functions are to create online platforms for third parties to meet, facilitate workflow and exchange services.
New media formats continue to be a source of innovation as dozens of high growth mediatech startups emerge around the world. They span everything from 3D printing, such as Formlabs in Cambridge, Massachusetts; to virtual reality, such as the enigmatic and secretive Magic Leap based in Florida. Outside the US, Oovvuu is another example, offering automated matching of videos, using artificial intelligence, with news stories and readers around the world.
Mediatech in everyday use
As we did with the Graphical User Interface desktop computing era, we are now seeing a new group of online media technology giants come of age who make our office life more productive. These include Campaign Monitor that makes beautifully illustrated email easy, Slack that makes it easy to share documents, photos and data across multiple devices, platforms and formats, and Buffer, that simplifies the scheduling of social media postings.
The potential for mediatech is enormous — today's largest tech companies, each now worth over US$200 billion, got their start in mediatech - Apple with mobile music, Amazon by selling books online, Tencent with online gaming. And Facebook, Baidu and Google are all massive global marketplaces for advertising — using the power of the web to disrupt traditional media channels such as TV, newspapers and phone directories.
Softbank's impressive founder Masayoshi Son began by bringing coin-operated arcade games like Space Invaders to the US.
One may ask is there an equivalent to Transferwise moment for mediatech?
In January 2018, Sequoia China led an investment in Sydney-based Canva that valued it at US$1 billion, crowning it the latest Unicorn. Canva is helping reinvent desktop design and has 10 million users in 190 countries. Given its predecessor Adobe's valuation at US$106 billion it clearly has ample headroom for further expansion.
Are we are on the cusp of global #mediatech movement? That remains to be seen but the stage is set for investors, businesses and consumers alike.
This article was originally published on The Conversation. Read the original article.
Spotify leads a new generation of mediatech companies
Spotify is leading a whole new generation of mediatech companies that from augmented reality, 3D printing to massively multiplayer online games like fortnight.
More unicorns in Mediatech than Fintech
Top 100 mediatech unicorns
The total cumulative value of the Top 100 mediatech unicorns and recent ex-unicorns that have gone public such as Spotify, Dropbox and Snap! is now worth more than US$275 billion.
Fintech Old, Mediatech Older
While Fintech and Mediatech have both been around for more than a decade, Mediatech is only now having its "Transferwise" aha moment where investors realise the massive global potential upside across many segments.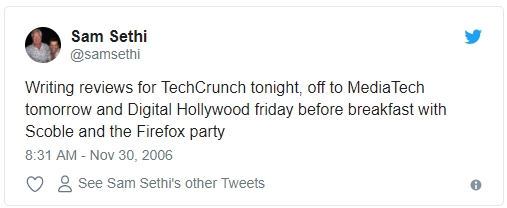 The Fintech party started in London in 2015
While Fintech has been around for over a decade, the party really only got started in London in 2015 as investors worldwide realised the massive global potential of big data, AI and over half the world now online for a range of financial services segments. The tipping point as Malcolm Gladwell would say was when leading US technology venture capital firm Andreesen Horowitz set up shop in London and invested in the UK-based global online cross-border foreign exchange startup Transferwise.


The Mediatech party began in Sydney in 2018
In 2018, online design software company Canva with investors crowning a next-generation global tech giant in the making and making the first Unicorn of the new year. Pictured - Chief Evangelist of Apple, Guy Kawasaki, is now working for mediatech unicorn Canva.
Supercell: Europe's 1st Decacorn acquired by Tencent
In June 2016 Finland's Supercell (and maker of Clash of Clans) became Europe's 1st decacorn (private tech co valued at over US$10bn) thanks to a majority investment from China's Tencent.
Mediatech Top 40 Industries
Digital transformation has led to an expanding mediatech landscape that increasingly touches all industries. This map shows interconnecteness of global industries today in the mediatech world.

It's the six-degrees of separation map of the emerging global mediatech industry landscape.
Starting with core media assets such as Broadcast Media, Newspapers, Marketing and Adverting and Design and now underwriting the growth of many other diverse sectors such as Computer Games, Luxury Goods, Furniture, Fine Art and Supermarkets.